Sensor faucet soap dispenser manufacturers take you to understand the reasons why the soap dispenser is not liquid
---
---
Sensor faucet soap dispenser manufacturers tell you that the sensor soap dispenser is a high-tech sanitary product. Compared with the traditional manual soap dispenser, the non-contact type avoids cross infection, saves efficiency, is hygienic and environmentally friendly. The working principle of the induction soap dispenser is through infrared induction, the human hand reaches a fixed position, that is, the liquid is automatically dispensed once. Among them, the reduction box of the induction soap dispenser plays a key role in executing the command, uploading and issuing. What is the reason why the soap dispenser does not produce liquid? Xiaobian will tell you one by one.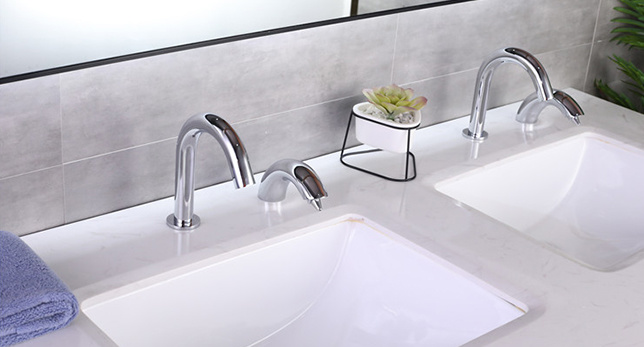 1. No detergent.
Solution: The Sensor faucet soap dispenser manufacturer tells you that when adding detergent to the soap dispenser, pay attention to adding 10% water to the soap dispenser, otherwise you will use less soap in the long run. If only the soap dispenser was blocked.
2. The detergent is relatively thin.
Solution: Too dilute the detergent will also cause the soap dispenser to be unable to be pressed. You can inject too much water into the soap dispenser to concentrate the detergent. This method can be applied to old or old soap dispensers. If it is a new soap dispenser, the excess water from the outside of the soap dispenser can be added indirectly and then used. The use of soap and light will make it easier to use.
3. Substandard soap dispenser
Solution: If you are not careful when buying a soap dispenser, it is easy to buy a low-quality soap dispenser. Poor quality soap dispensers can be chrome plated inside plain steel to impersonate stainless steel soap dispensers. Sensor faucet soap dispenser manufacturers tell you that if this type of soap dispenser is used for a long time, it will cause the soap to spray out is black, and it is not durable, often clogs, and the soap dispenser cannot be cleaned.
4. Excessive indoor air.
Solution: The secondary method for the soap dispenser to press the detergent is to use the press tube. If there is too much air in the press tube, it is difficult to press the detergent. The pressing tube can be taken out of the soap dispenser, and after cleaning the excess detergent, the air in the pressing tube can be expelled with water. The manufacturer of the Sensor faucet soap dispenser tells you that when the compression tube is set, use it again.
5. The spring has aged and aged.
Solution: It is the spring in the soap dispenser that supports the pressing detergent in the soap dispenser. If the spring in the soap dispenser is old and broken, the detergent cannot be pressed out. Sensor faucet soap dispenser manufacturers tell you that if the spring is broken, it can be repaired and a new spring can be replaced.
---
china,Sensor,faucet,soap,dispenser,Wholesale,Price,,customized,Sensor,faucet,soap,dispenser,company