What should be paid attention to when using Touchless faucet soap dispenser
---
---
When we put our hands under the Touchless faucet soap dispenser, why does it automatically squeeze the soap onto our hands? This is actually the principle of using a human body induction device.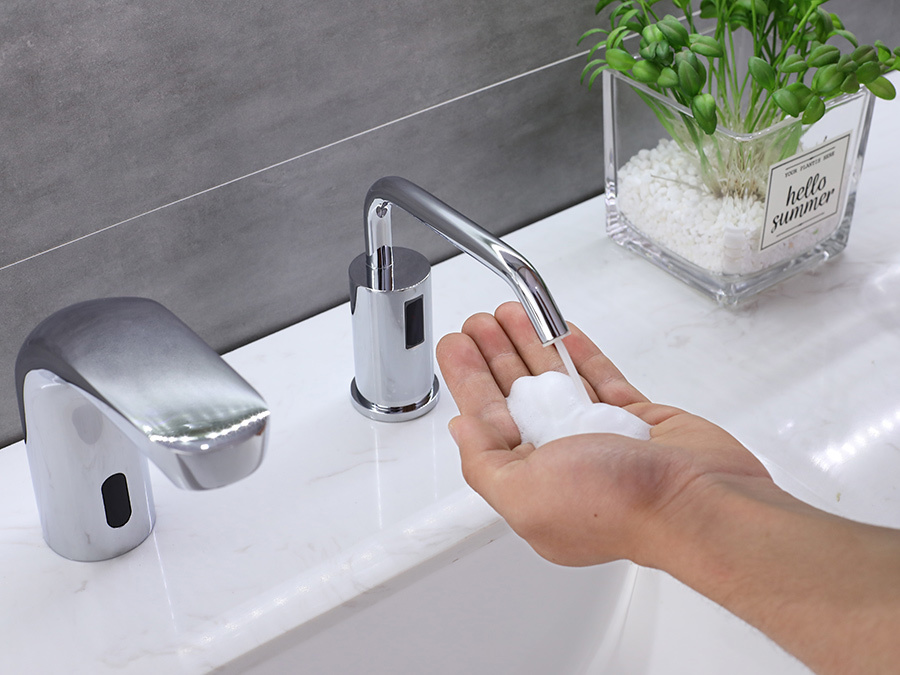 Touchless faucet soap dispenser is equipped with a human body sensing device near the liquid outlet. When the sensor of the lens and pyroelectric tube senses the signal sent by the human body, the electronic circuit will output and amplify it to form a signal to open the switch and drive the internal The DC motor rotates. Push the switch piston to squeeze the soap out.
When using Touchless faucet soap dispensers, pay attention to:
1. When the liquid level in the induction soap dispenser is used in a small position, it should be replenished immediately, otherwise the soap liquid will not flow out normally;
2. Avoid collisions, heavy blows and falls during use, because there is a precise structure inside, which is likely to cause serious damage to the interior;
3. The Touchless faucet soap dispenser cannot be washed with water, but should be scrubbed with a towel with light humidity;
4. The sensor soap dispenser cannot be placed at an angle during use, which will cause the internal soap to leak out;
5. When you do not need to use the induction soap dispenser, turn off its power switch, take out the battery, and store it in a ventilated and dry place;
6. Touchless faucet soap dispenser should not be exposed to sunlight, too strong sunlight will affect its function.
---
Best Touchless faucet soap dispenser Manufacturers china,customized Touchless faucet soap dispenser company